Tiles are a big part of the picture when it comes to bathrooms. There are many ways to mix and match tiles in the bathroom in the most desirable ways. But the question is how would you do it? Italia Ceramic Outlet has put together a guide on the different ways you can mix and match tiles in the bathroom!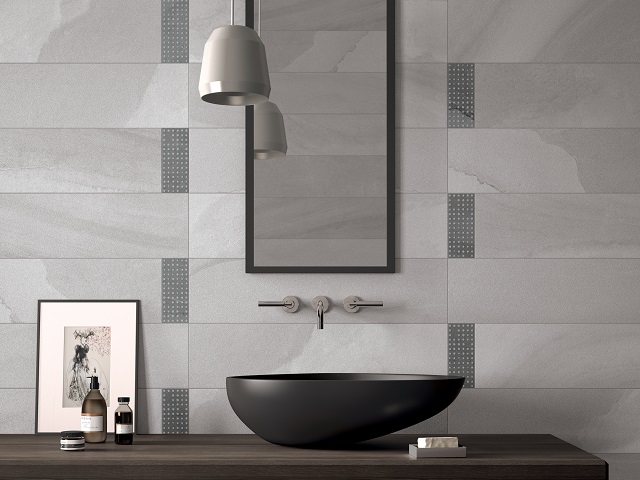 Balancing large and small tiles effortlessly
If you're looking for an open feel to your bathroom, large format tiles are your answer! Large tiles will not only enhance the size of the room, it will make the flow of the room more desirable. Fewer grout lines will visually break up the floor and enhance the length of the room. Add a touch of visual interest with small tiles to your bathroom design. Small tiles matched seamlessly with large tiles will instantly create a centrepiece for your bathroom. Whether it is a small tile splash back across your vanity or a border design that wraps around the walls.
Playing with patterns layouts
Take your bathroom to the next level by introducing a tile pattern into your design. Experimenting with different patterns; geometrics, chevron, herringbone, florals in bold or subtle colours can create that real wow factor!
 Adding decorative tiles to your pattern creates a personal touch and flair to your home. Take hexagon tiling to the next level by using a monotone theme to achieve a dramatic look or using a strong colour duo to create show-stopper feature that will have the neighbours talking!
The showstopper feature floor tile
Behold the power of a bathroom feature floor tile. Tiles are a great way to introduce creativity, art and something unique to any bathroom setting. Making your floor the hero piece to your bathroom, allows you to have a simple wall tile to compliment the design with simplistic interior features.  Design your feature floor tile with mosaic tiles, hexagon tiles or even introducing a chevron, herringbone pattern into your floor design. Compliment your feature floor tile with a neutral wall tile to keep the focal point of the design on your flooring. 
 Make your floor tile the talking point to your bathroom design!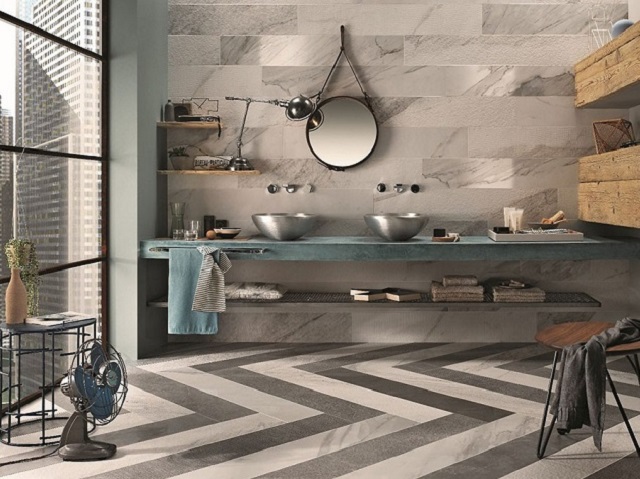 The hero feature wall tile
Just like the above but adapting the feature as your wall tile with a simple floor tile. Design an impressive feature wall that enhances the style and theme of your bathroom. Whether it is a dazzling jewel of mosaic tiles or a large hexagon tile feature or a continual geometric, herringbone or chevron tile pattern wrapped around the walls in a monotone, pastel or multicoloured scheme.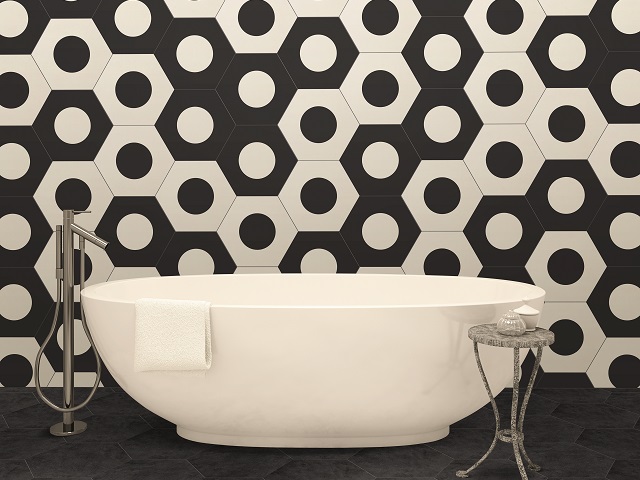 Pop of colour
Add a pop of colour and creative flair to your bathroom design.  The bathroom is a great area to inject colours that you love and suit the space.  The colour of your choice in tiles will have an influence on the mood you wish to give your bathroom. Whether it is a calm sanctuary with cool whites and pastels, a dramatic look with high-intensity bright colours or a modern look with a touch of warmth or cool colour tones. Whites, greys and blacks are renowned to create a classic timeless bathroom look. Brighten up your bathroom with an illuminated stone splash back by Essastone that adds a powerful yet a luxurious statement to your bathroom.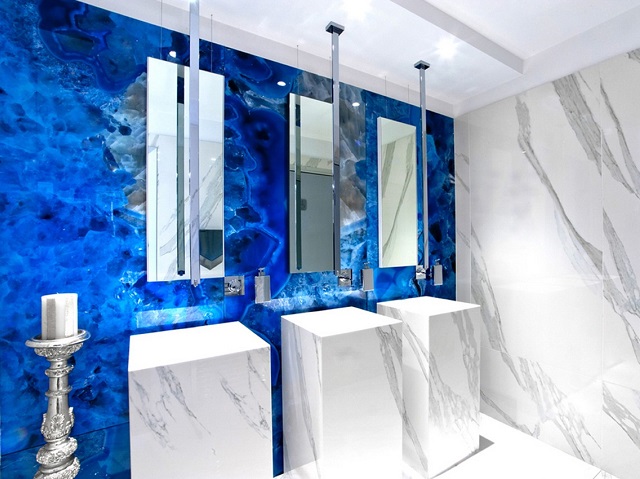 Same colour tiles and different sizes
Create a design that has a staying power, a timeless look that is fresh today as it was yesterday and will be tomorrow. If this is the type of design you want to achieve this is the look for you. Choose a wall and floor tiles in the same colour and style throughout your bathroom yet in different sizes to break up the uniformity. Your bathroom design will have a subtle sense of balance and order that will last a lifetime.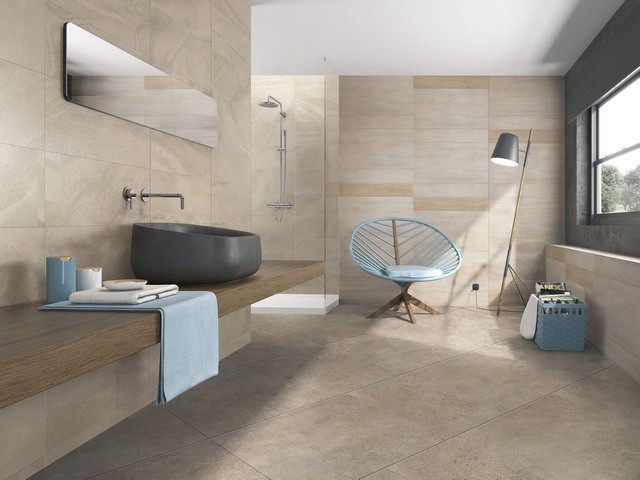 Combine various finishes
Blending modern and timeless vintage touches into your bathroom will achieve a match made design heaven.  Whether you choose from soft light, mid or dark wood tiles complimented with your tiles will add a touch of warmth and sophistication. Introducing textured wall tiles are a standout that will provide the unexpected. The contrast between tiles and raw materials can make your bathroom look vivid and lavish.
 So go on, why not stand out from the crowd?